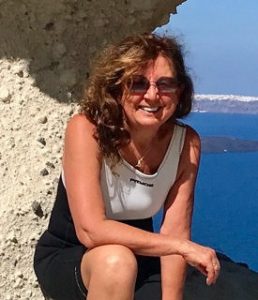 "When it comes to style, labels and categorizations simply slide off her shoulders, and a unique blend of tradition and creativity comes to mind. She is free to produce the most expressive, refined statement with the delicate touch of a master, giving the viewer a fundamental feeling of peace."
— Maui News
Originally from Paris, where she began her formal studies in art, Joëlle Chicheportiche Perz embarked on a worldwide quest with a paintbrush in her suitcase and the vision of an artist in her heart. After acquiring her Fine Art and Art History education at the University of Aix-en-Provence, in 1972 she went to study mural painting in Mexico and printmaking in San Francisco. Her unwavering appetite for learning and experimenting lead her to deepen her knowledge of colors and recently to paint on carved wood, a unique technique combining both her experience in painting and printmaking. Beyond techniques, her paintings reflect an intimate joy for color, light and a poetic approach to reality.
Attracted by the merging of cultures in a place where nature is still in the making, Joëlle has been residing on Maui since 1982, the place she now calls home.
In 1989, Joëlle was one of the founders of Viewpoints Gallery of which she is presently the Art Director. Introducing shows that make art an integrated part of the community and displaying them masterfully has been a big part of her artistic endeavors.
Her efforts and achievements in this field led her to being asked to install the 'Art Maui' annual juried exhibit at the Schaefer International Gallery, Maui Arts & Cultural Center since 2009.
AWARDS & EXHIBITIONS
1975   International Year of the Woman in Mexico, First Price
1985   "World Festival of the Underwater Image", Nice, France
1987   Lahaina Arts Society – Statewide juried show, Acquisition Award by Hawai'i State Foundation on Culture and the Arts
1988   Hawaii Craftsmen, Following Sea Award Collaboration piece 'Fiber and Paint' with Theo Morrisson
1989   Hui No'eau Annual Juried Show, Best in Show, Collaboration piece 'Fiber and Paint' with Theo Morrisson
1990   Art Maui – Pledge Purchase
1989 / 1990 / 2001 / 2002 / 2003 / 2008 / 2010   Art Maui – Juried Exhibit 
1992 / 1993 / 1995 / 1997 / 1999 / 2000 / 2002 / 2004   Solo Shows at Viewpoints Gallery
1997   Hokule'a Show, Maui Arts & Cultural Center
2001   Solo Show at Axis Gallery, Tokyo, Japan
2003 – 2011 'Back Room Artists' shows at Hali'imaile General Store
2003 / 2007 Schaefer Portrait Challenge Juried Show, Maui Arts & Cultural Center
2010   Art Maui selection for 2011 publicity image
2013   "Hawaiian Art & Artifacts, Sullivan Collection" @NBMAA, Hartford, CT
2019   Studio Tours event in Lahaina
Joëlle C. Gallery Solo Shows and Events
2002   "Shining Through"
2003   "New Works"
2005   "The Color of Light and a Flight"
2007   "Testimony of Harmony"
2009   "Earth and Water"
2010   "Four Artists"
2012   Grand Opening of new Joelle C Gallery
2015   New works by Joëlle C., Mary Ann Leigh and Karuna Santoro
"Aloha Expressionism" book presentation and signing
2018  "Memories of Water"
Viewpoints Gallery Invitational & Curated Shows
2002   Hawai'i Watercolor Society – Juried Show
2006   Invitational 'Luminosity: Color exploration with Vanishing Boundaries'
2008   Invitational 'East-West'
2012   Invitational 'Color, Light and Space'
2014   Invitational 'Relationships and Collaborations'
2016 / 2017 / 2018   Invitational 'Reaching Out'
2004 – 2016   'Malama Wao Akua Annual Juried Show'
2006 – present   'Celebration of Hawai'i' Annual Invitational
2016   Invitational 'Hawai'i Contemporary'
ACHIEVEMENTS & HONORS
1989   Founding member & President of Viewpoints Gallery
2004 – present   Vice President, Art Director and Installations, Viewpoints Gallery
2009 – present   'Art Maui' Annual Juried Exhibit – Installation at the International Schaefer Gallery, MACC
1987 – present   Member of the Maui Aikido-Ki Society; Achieved the rank of Yondan (4th dan) black belt
2016   Juror and exhibit installation of Art Kauai
2019   Juror and Exhibit designer for the 2019 Mālama Wao Akua Exhibition at the Hui No'eau